Bouckaert Industrial Textiles specializes in providing a wide range of nonwoven fabrics and composites to automotive OEMs and their supply chains. Our nonwoven materials and industrial felts can serve as insulation from sound or heat, weight-saving replacements for plastic of metal parts, padding, and structural reinforcement. We also offer damping materials to absorb and weaken vibrations that can otherwise cause an unpleasant squeak, rattle and buzzing sounds within the car's interior.
Benefits of Nonwovens in Automotive
Almost all automotive manufacturers use of nonwoven fabrics in their products' interiors and structures, and more innovative uses are being found every day. Nonwoven materials come with a host of benefits for automotive manufacturers, including: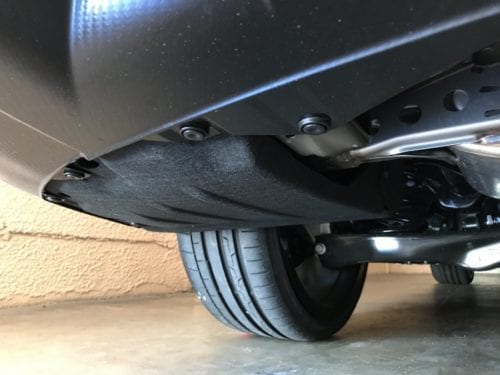 Excellent thermal and acoustical absorbency
Strength + flexibility
Lighter weight
Moldable
Combinable into composite solutions
Eliminates Chemical Binders
Primary Uses
Acoustical and thermal insulation made from polyester, fiberglass, polypropylene, or fiberglass polyester blends
Molded products with options for polyester/ polyester bi-component, fiberglass/polyester bi-component and fiberglass–polypropylene blends
Product Lines

Temp-Sonic is a family of products from Bouckaert Industrial Textiles comprised of needled fiberglass blended with polyester or polypropylene for use as acoustical and/or thermal insulation.
Applications
Our nonwoven materials and felts provide practical advantages throughout the automotive manufacturing process. These products are perfect for any application that requires insulation, mold-ability, padding, filtering, or lining.
Some common components we make from nonwoven fabrics include:
Acoustical insulation (headliner and underbody materials)
Thermal insulation (Thermal and Heat Shields)
Padding for sun visors
Engine Side Acoustic Absorbers
Padding for sun visors
Under-carpet
Trunk liners
Console and storage box linings
Wheel Liners
Front of Dash
Other relevant uses for our materials include:
Composite creation
Tire reinforcement
Battery post-corrosion inhibitor washers
Oil filters
Muffler wraps
Moldable RV Panels
Fast Turnarounds and Just in Time Delivery
Bouckaert Industrial Textiles offers expedited services for clients in a hurry. Our Just in Time (JIT) Delivery service includes Kanban Systems that support JIT pull capability for large-scale production. Because of our specialized machinery and large stock of materials on hand, we can accommodate orders ranging from small trial sizes all the way to large-scale mass production.
No matter your needs, our experienced product engineers will work with you to create the ideal customized solution for your automotive application.