Bouckaert Industrial Textiles is one of the nation's leading manufacturers of industrial felt products. Many industries rely on these materials for insulation, padding, gasketing, wiping, and filtering. We custom manufacture wool felt, wool blend felt, and synthetic felt products of various grades, densities, and blend contents. Our products are available in both sheets and rolls depending on your need.
Our wide range of capabilities allows us to tailor all our products to specific targets regarding their absorbency, liquid absorption or repellency, filtration characteristics and cushioning.
No matter the type of industrial felt you require for your application, Bouckaert Industrial Textiles can provide high-quality material to fit your project and budget.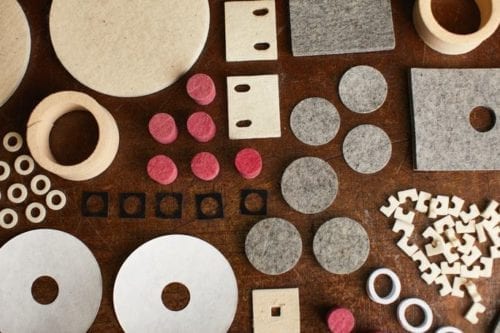 Applications
Our industrial felts find use among many industries, especially in thermal and acoustical insulation as well as gasketing and wiping. Specific uses include:
Vibration mounts
Oil seals and gaskets
Thermal breaks, barriers or insulation
Dryer seals
Fluid storage
Weather stripping
Space and packaging
Sun visor padding
Dash insulation
Oil filters
Muffler wraps
Soundproofing
Vibration, noise squeak, and rattle absorption
Filtration
Bouckaert Industrial Textiles accommodates orders of all sizes, even on tight time frames. We can scale our production from small runs, including trial capabilities, to large-scale mass production. We also offer expedited services such as Just in Time (JIT) delivery, and we can use Kanban systems as necessary. In all cases, you can expect quality materials, expert customer service, and optimal lead times to meet your project's specifications.