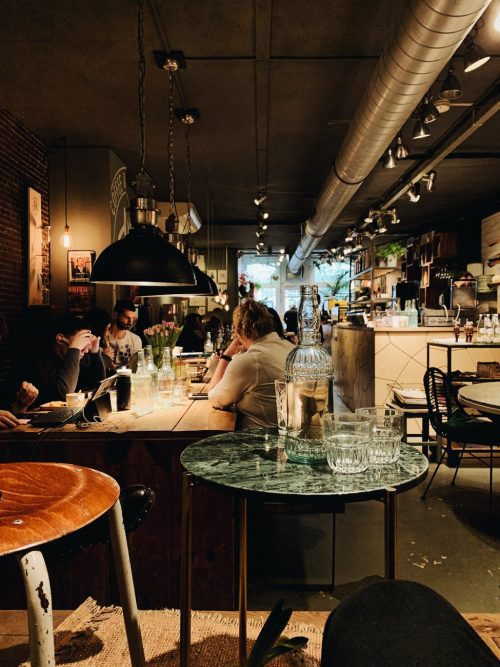 Restaurants, bars, cafes, hotels; we leave the comfort of our homes to indulge in these spaces.
COVID-19 restrictions have eased and the long-desired opportunity to frequent our forgotten social lives is now present. Properly designed noise control measures in your public spaces can make a difference between a returning customer and a bad Yelp review in these post pandemic times.
Sound: A Health Risk
We cannot escape noise.  Our daily lives are inundated with a variety of sounds from the landscapers outside our homes to the swirling conversations surrounding us at the bar.
The most serious potential risks to our health are:
hearing loss
hearing impairment
tinnitus
But the most pervasive effects trigger issues with our physiological health.
Fact: Sound levels above 85 dB are considered harmful. Exposure to sound levels at or above 120 dB can cause immediate damage.
Sound disrupts our sleep, concentration, heightens our stressors by releasing cortisol, elevates blood pressure and heart rate…
And, to put it simply, too much sound is annoying. We don't see noise or feel it, so we write off issues as non-noise induced. But for the average guest, noisy spaces make for uncomfortable environments.
Why So Noisy?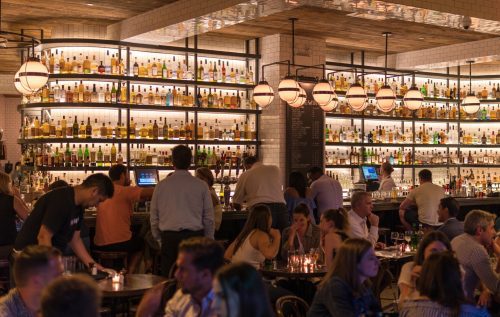 The number one complaint when dining out is poor service. The second is noise.
So when did the hospitality industry become so noisy? And why?
The trending upward levels of noise may have started in the mid-1990s with well known chef Mario Batali when he began playing the music in the kitchen and dining area. Now it has become commonplace to amp up the volume to create a "buzz" that draws people in.
It has also become a tactic for quicker turnaround. Research has shown that restaurant and bar owners use excessive levels of noise because it pushes patrons to eat faster thereby leaving sooner.
All five of our senses influence our perceived reality of not only places, but the food and drinks we consume. But further scientific research has shown evidence that noise interferes with our sense of taste. Because noise is a distractive nuisance, it becomes easy to mess with the senses.
Other purposeful choices in décor amplify noise. Modern design trends are the greatest conductors of sound. Gone are the days of plush booths and tablecloths; elements of style that helped dampen noisy spaces. Substituted with glass tables and bare floors, sound now bounces around freely with little absorption opportunities.
Where to Look for Acoustic Problems
To understand sound, it is good to know the basics of how sound travels.
Sound is vibrational energy. There is direct sound which travels directly from the source to the receiving end (for example, you and your partner talking over breakfast in your apartment). And then there is reflected sound. Reflected sound is direct sound bouncing off walls, floors and other mediums. The reflected sound is what gives us reverberations or echo. And why sound becomes exasperated in most spaces.
Think of a disco ball except with loud music, kitchen sounds, employees working, and the rolling conversations all overlap and bounce off one another making for, "Say that again" and "I can't hear you" staple quotes of the night.
Sound treatment can be expensive. Hiring acoustic engineers and sound consultants can drive up the price. And altering your already designed interior can create issues for an already established institution.
There are simple ways to addressing noise issues without mind blowing renovations. First, taking inventory of intentional noise practices (as we mentioned, loud music) coupled with the décor of your space will help you pinpoint where sound is amplified.
Keep in mind the materials in your space (hard materials like steel or glass are non-absorbing) and the landscape of your interior. A cheap alternative to testing for room acoustics is a simple clap test. In your space, clap your hands together and wait to hear for the initial "slap" followed by its echo. The longer the sound continues, the more reverberation time your room holds. It's an easy way to hear for where your acoustical problems lie.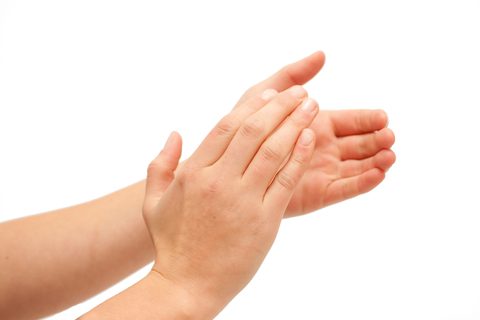 Balancing Noise Levels with Acoustic Treatment
Thankfully, acousticissues in your space are not a unique problem. And most acoustic insulation solutions do not have to take away from the defined aesthetic of your brand.
The addition of acoustic panels improves sound quality by reducing the amount of reflected sound. Materials like PET (recycled polyester) absorb sound waves, dampening the sound by transferring the vibrational energy into kinetic energy, or heat. And they come in a variety of forms. Placing your acoustic panels accordingly (and relative to your space and its dimensions), you can effectively mitigate noise.
What Types of Acoustic Panels are Best for You?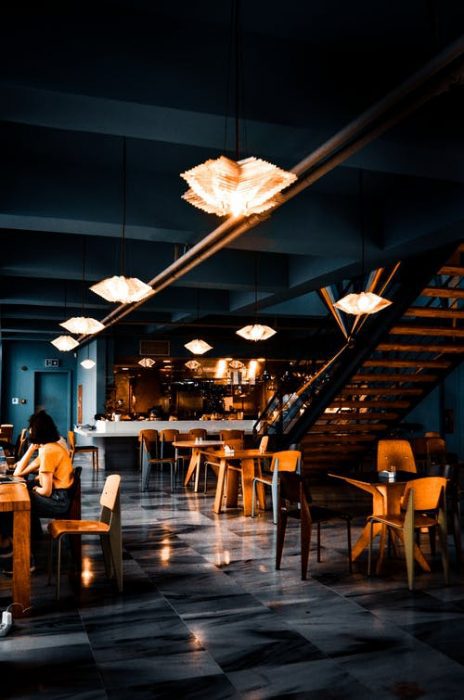 Sound is the main issue. Turning off the music won't change sound traveling. To find the right acoustic treatment, you need to take these things in to consideration:
Dimensions of your space (high ceilings, etc.)
Furniture materials, flooring, windows, doors
Noise absorbing material and "dead" space
Keep in mind the tone of your space. Acoustic panels do not have to dull the vibe; with so many options and designs, you can enhance without compromise.
Here are some acoustic solutions that can fit in to your space.
Acoustic Panels and Art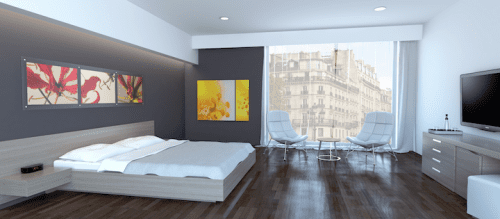 Acoustic panels can be any size and shape, placed in a variety of configurations at designated reflections points. In this scenario, less can be more, enhancing walls with modern visuals.
Acoustic panels can also double as artwork. Stock photos or custom images can be printed onto any size panel to give you a piece of artwork that works as your sound dampening tool. And in our post-COVID world, you can utilize acoustic panels as custom dividers (movable or fixed) for designated areas that will buffer sound and maintain safety regulations. They can also act like booths without the bulky nature.
Ceiling Baffles and Clouds
To better your bar and restaurant guests' experience, hanging acoustic solutions can mitigate noise in a non-conspicuous manner. Or conspicuous: they are perfect examples of how to create artistic focal points in your space. Depending on shape and size, they are effective at tuning out unwanted noise in greater ranges of angles.
Plus, they can double as lighting fixtures, creating a two for one in your space's décor.
Absorbent Furniture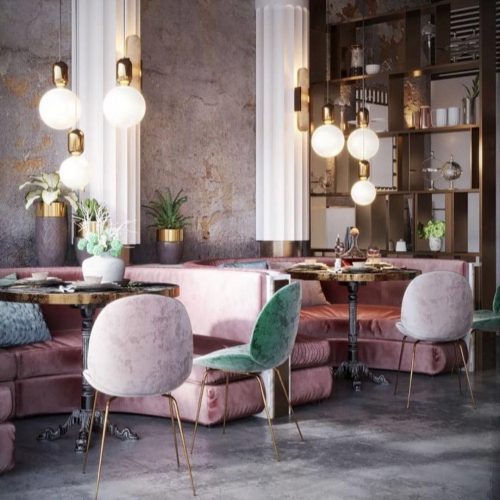 One product, multiple functions. Sound absorbing furniture works well for physical comfort and sound buffering. In modern and sleek establishments, complimenting stark lines with plush furniture in lobby and rest areas soften trending contemporary styles and invite your patron so stay.
You Don't Need to Reinvent the Wheel for Sound Management
Rendering your space acoustically "healthy" for patrons (and employees) can be easy without re-designing.
At BIT, we manufacture our Poly-Sonic Acoustic panel line to meet any acoustical need. Our panels are 100% polyester, free of any fiberglass or VOC, and customizable for all specialized products. From rolled good to hanging baffles, our partially recycled acoustic panels create top quality finished products.